Franz Hermle started the Hermle Clocks Company in the Black Forest region of Germany in the early 1900s.  Today, Hermle Clocks makes some of the finest and highest quality grandfather clocks, wall clocks, and mantel clocks available today anywhere in the world.
Time never stands still and is becoming increasingly precious. Ever since its founding in 1922, the company, started by Franz Hermle in Gosheim, has developed constantly.  With its three German cornerstones – Uhrenmanufaktur, Mechanische Uhrwerke, and Drehteile – Hermle serves diverse markets and customer groups worldwide.  Fully in keeping with its mission to ensure that with each product, it develops, manufactures and delivers the very highest in clock making quality.  Grandfather clocks have been one of their special offerings throughout, with Hermle Grandfather Clocks, Hermle Grandmother Clocks, and Grandfather Clocks made by other makers with Hermle's mechanical grandfather clocks movements inside their cases, all being extremely sought offer and collectible.
Hermle clocks, including Hermle Grandfather Clocks, are made by hand to a large extent and enhanced with interesting technical as well as visual details, making them highly sought after.  Whether floor grandfather clock, wall clock, table clock, ship's clock or a regulator, Hermle Clocks masterpieces  represent time in its finest form all over the world.  There are many Hermle clocks out there in the world that are considered antique grandfather clocks, antique mantel clocks, and antique wall clocks.  Hermle has been around long enough to have earned that distinction with its earlier clock models.
In 1922, the founder Mr. Franz Hermle founded the Franz Hermle Clock Company located in Gosheim in Baden Wuerttemberg, a small town in southern Germany's Black Forest region. Within 10 years the company became known as one of the most efficient manufacturers of clock movements in the clock industry.  Even though the first half of the 20th Century brought with it many difficulties to overcome, including the complete dismantling of the factory after the World War II, Franz Hermle and his sons' dedication allowed them to prosper while other companies struggled.
Franz Hermle passed away in 1953 and left a modern and prosperous operation to his sons Gebhard, Alfred, Hans and Heinrich Hermle.  With tremendous willpower and energy, they continued to build the company into the worldwide leader in manufacturing mechanical movements and clocks.  Along with Kieninger Clocks, they are one of the last 2 remaining clock companies who make high end high quality grandfather clock movements in any large quantities.
In 1977, Hermle decided to establish another manufacturing facility, Hermle Black Forest Clock Company to serve the North American market out of Amherst, Virginia, USA. Hermle Headquarters in southern Germany is now in its third generation, and still family owned and operated. Hermle employs over 200 people in 3 locations in both Germany and USA. In October 2010, Hermle Gosheim was rebranded as Hermle Uhrenmanufacktur GmbH, and as of January 2011, Hermle Black Forest Clocks re-branded and renamed itself as Hermle North America.
Hermle Clocks has just recently started making solid wood grandfather clocks with the cases all being Made in America.  Known as it Made in America Grandfather Clocks line, the clocks in this great selection are just beginning to come to market.  We think these grandfather clocks in particular, which still have the Hermle German mechanical movements inside, are worth a special look by people shopping for high-end grandfather clocks.
Looking for grandfather clocks on sale or discounts on grandmother clocks, mantle clocks or wall clocks made by Hermle.  It never hurts to call us at 1-800-4CLOCKS (1-800-4CLOCKS, ext. 1) to see what special unadvertised sales or grandfather clock discounts we might be offering.  You might just find your favorite grandfather clocks on sale.
Here is a sampling of some of our favorite Hermle Clocks: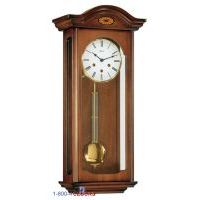 Hermle Wall Clocks
Hermle Mantel Clocks