On of the most heartwarming trends observed seems to be giving the gift of a grandfather clock on occasions like weddings, special anniversaries, milestone birthdays, retirement gifts (more and more common), and even a gift to oneself in a new point in life or for a new home. Bridal registry requests for grandfather clocks is something we see more and more of as well.
Many people view the grandfather clock as the Heartbeat of the Home, as Ridgeway Grandfather Clocks puts it.  A grandfather clock gift definitely symbolizes a coming of age of a certain type. Thousands of times we have heard of adults talking about their memories of grandfather clocks when they were children, even when the clock was not in their own home, but rather that of a friend, or a grandparent. Grandfather Clocks seem to have an almost hypnotic effect on children, and one which they almost always remember very fondly.
Grandfather Clocks make great heirlooms, to be passed over time from generation to generations. This gift of time is one of the major motivating factors when higher end grandfather clocks are given as presents. Many parents see a gift of a grandfather clock as a tangible something that can be passed to their grandchildren and beyond. Some of our best customers are individuals who are buying grandfather clocks for all of their children when they each reach a certain point in life.
With Christmas and the Holiday Season approaching, many people look to quality grandfather clocks as one of the gifts of a lifetime. In our experience, rarely is a gift more appreciated and actually used and enjoyed for such a long period of time! Gift the gift of time, and Add Time To Your Life®.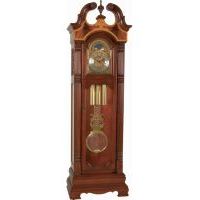 Ridgeway Beverly Hills Grandfather Clock – Model R2511