It is amazing to look on YouTube or Google or search around the web more generally and to see how many people are buying grandfather clocks or grandfather clock chiming sounds of the virtual variety.  There are a gazillion of widget and other file type sound downloads that not only are customizable, but also replicate the sound, for example, of the most popular grandfather clock chime of all, the Big Ben Tower Clock Westminster Chimes.
People, at least some of them, always like to mix the more traditional with the latest and greatest, whether it is in technology or something else.  Hence flash clocks and flash grandfather clocks and wall clocks and mantel clocks have made a comeback in popularity, in addition to real life, in the world of cyberspace.  There are even desktop applications where one can have the sound of mechanical movement Westminster Chimes recorded from Big Ben Clock Tower itself, or your PC or Mac or iPad can be programmed to wake you up to that any many other chiming clock choices.
Now most connoisseurs of grandfather clocks or timepieces in general will always want the real thing and find there is no substitute for a genuine Howard Miller Grandfather Clock, or one made by Hermle Clocks, or a Ridgeway Grandfather Clock, one of our Museum Clocks™ Grandfather Clocks, or a Kieninger Grandfather Clock.While many of us might like to spend time in the world of Dungeons and Dragons, all of us would ultimately rather live in the Castle equipped with a genuine contemporary grandfather clock or one of the more traditional types of grandfather clocks.
While the economy appears to continue to be strengthening, smart shoppers are always looking to purchase grandfather clocks on sale or get as much off as they can on a discount grandfather clock.  While we always try to address that need, we believe as much in top notch service, including free in-home setup by an authorized technician instead of a moving company, and we are always willing to take the time to educate any prospective grandfather clocks shopper on the difference within and between brands and makers, as well as different types of movements such as cable-driven vs chain-driven, and whether a grandfather clock kit should be considered, along with the pros and cons.  New vs. antique grandfather clocks, grandmother clocks and grandfather clocks, grandfather clock plans, Kieninger vs. Hermle movements, and clock kits and grandfather clock plans, much less cheaply made imports which may be dead on arrival, are all aspects of the purchase of grandfather clocks that we consider.
Most all grandfather clock shoppers want an heirloom quality grandfather clock or grandmother clock.  We aim to see these consumers get their moneys worth and are satisfied with their purchase not only for years but also for generations to follow.
Here are some of the grandfather clocks that have been very popular as of late:

Howard Miller Triple Chime Grandfather Clocks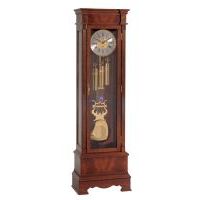 Museum Clocks Grandfather Clock Collection
Museum Clocks™