The history of grandfather clocks is something we have written a lot about, both in this Blog and on our main website 1-800-4CLOCKS.com.  The grandfather clock, or back in 1650 around the time and in later years was better known as a Floor Clock or Tallcase Clock or Longcase Clock, was first made by abc, based on the principles of xyz, spread throughout Europe, generally from West to East in horological history.  The free-standing weights in a standalone grandfather clock, or Floor Clock, were another identifying feature separating grandfather clocks wall wall clocks and regulators, and mantel clocks, and what many still refer too, incorrectly by the way, as grandfather wall clocks (if the clock hangs on a wall, it is by definition not a grandfather clock or a grandmother clock, even if it still resembles one with its overall look and features).
So when grandfather clock shoppers are scouting about for new grandfather clocks discounts and trying to compare grandfather clocks by brand and features, what are the relevant parts of grandfather clocks history.
It's really the innovations over the last 20 years that most grandfather clock shoppers, with the exception of those looking only at antique grandfather clocks, will need to understand to contrast and compare.
Here we will highlight some of the key points for focus when doing grandfather clock comparison shopping:
1. Quality – Easily the most important point a clocks shopper may get confused about is whether the grandfather clock brands they are comparing are of comparable quality and worksmanship.  This is especially true over the last decade or two as there has been an increasing tide of cheaply made imports flooding the USA and worldwide grandfather clocks marketplace.  Some of these cheap brands, which not so coincidentally have names that make them sound unusually similar to brands or established makers in general, arrive at the customer's doorstep if not DOA – dead on arrival – either on life support or requiring much labor on the part of the purchaser to actually put the thing together.  Guess what?  Many of these same brands will have no instruction or assembly manual, and the customer has no idea with whom to follow up.  We know because we get many calls from individuals who have bought these so-called grandfather clocks and are practically begging for help.  Worse yet, many of these purchases have taken place at some of the biggest most well-known and respected department stores — and apparently in many cases, for whatever reason, these customers are not able to get help or refunds there (perhaps it's because they have already opened the box and started working on it, or too much time has elapsed)?
2.  Buy a well respected brand – the best way by far to ensure that one is purchasing a quality grandfather clock is too stick with known brand names, and ideally also to purchase from stores that actually specialize in grandfather clocks, so that they can be there when questions inevitably arise, and can advise you on the pros and cons of different specific grandfather clock brands, specific Floor Clock models, and different types of grandfather clock movements and the many features which have proliferated in recent decades.
3.  Movements – there are essentially 4 categories of movements for grandfather clocks, in order of popularity and availability –
a. Cable driven mechanical grandfather clock movements – these grandfather clocks are the type that are wound in the dial or face, and generally wound in a circular motion with a winding crank key.  Most all of these movements are 8 days.  Most all nowadays also have three weights and a pendulum in the body of  the clock, and not coincidentally, 3 winding holes in the dial or face above, with winding in each of the holes bringing up each one of the three weights.  Generally the center weight is for time only.
b. Chain driven mechanical grandfather clock movements – while the top quality makers make fewer grandfather clock models with chain-driven grandfather clock movements, these clocks have maintained their popularity for a number of reasons.  The movements tend to be smaller, and the clocks are generally therefore in smaller grandfather clock bases, from a depth, width and even height perspective.  These clocks almost always will have a single grandfather clock chime, generally the Westminster Chime.  They will also have a chime-silence option, and that is usually about the extent of the features on chain driven grandfather clocks.  Many will have a faux (or fake) moondial, meaning it doesn't revolve and is there purely for decorative purposes.  One of many reasons, aside from the generally lower price points of chain-driven clocks compared to cable-driven clocks, is that so many people have grown up with chain-driven clocks that sentimentality is frequently part of the buying equation.  Additionally, most grandfather clocks corporate gifts or promotional or retirement gifts are of the chain-driven grandfather clock variety.  That is simply a fact.
c.  Quartz-driven or battery operated grandfather clocks are relatively new, but many have been sold, and some are an excellent value.  There are pros and cons to a quartz grandfather clock.  The advantages can, but do not always necessarily include, a much lower price, volume control, auto-night shut-off, less depth, easy set-up, and no need to wind the grandfather clock (let the batteries do the work).  The disadvantages include a shorter movement life, less quality in the sound of any chime or chimes (because one is listening to a recording sound chip on a quartz grandfather clock instead of a real mechanical grandfather clock movement being struck with hammers with the others), and the fact that any somewhat serious clock collector would likely not view any quartz movement clock as a real and collectible clock.
d. Tubular chime grandfather clocks – we hesitate to even include this amazing type of grandfather clock, because generally only those who really know grandfather clocks and are connoisseurs of them, not to mention also having fairly deep pockets, would generally either even know what they are or be in a position to purchase one.  They are generally quite expensive, and even most clock shops do not know how to repair or necessarily even service a grandfather clock of this type.  Tubular chimes grandfather clocks have been around for well over a century, and most have either 5, or more usually 9, tubular chimes, which look like pipes, and are of varying sizes, and they hang int eh back of the case just behind the pendulum.  They usually but not always have cable-driven vs. chain-driven movements.  They usually play a choice of chimes, including Westminster, Whitington and St Michaels, and some play the Canterbury Chimes.  The BIG difference, other than price, is that these clocks have a truly rich and LOUD sound that can be heard far and wide within a house or home.  It is a deep sounding grandfather clock chime!
e.  Newer features – newer features NOT found on antique grandfather clocks, and introduced more recently and referenced in the appropriate context above, include automatic night shutoff options, illuminated grandfather clock dials, illuminated interiors of the grandfather clock when the door is glass, more chime options including the Beethoven Ave Maria grandfather clock chime and the Schubert Ode to Joy Chime, battery or quartz driven grandfather clock movements,  crystal pendulums, curio grandfather clocks, corner grandfather clocks, working moonphase or moondials on the grandfather clocks (there are some antique grandfather clocks with this feature), autowind mechanical grandfather clocks, 21st century and late 19th century contemporary case designs for grandfather clocks, atomic time or radio-controlled grandfather clocks, and other features that we are sure our grandfather clock blog readers will want to point out.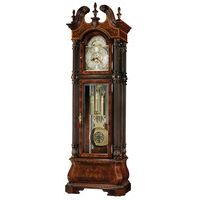 Howard Miller J. H. Miller II Grandfather Clock
List: $25,650.00
J H Miller II Howard Miller Tubular Chime Grandfather Clock 611-031  611031