Who does not love a good time or clock related riddle.  Well, we came across on at Dictionary.com the other day, and as a leader in the grandfather clock, wall clock and mantel clock industry, we feel it is especially worth sharing.
This one is also much better than the old one about throwing a clock to see time fly.
This clever question goes as follows – what is once in a minute, twice in a moment, and never in 1,000 years?  Hint – the answer is shorter than one word.
OK, have you put your thinking cap on and figured this clock and time riddle out for yourself, or do you need to keep reading?  The answer is, simply, m.
Hope this is clear to all you clock enthusiasts out there.  Now when you are sitting in your living room furnished with a Howard Miller grandfather clock, a Hermle wall clock, and a musical Rhythm Clock whether Small World or other, you will have an additional tidbit to entertain your family and friends.
Any more time riddles?  Let us know and we will be happy to share them here.  Feel free to post simply as comments, or write to us with our userid grandfatherclocks on eBay.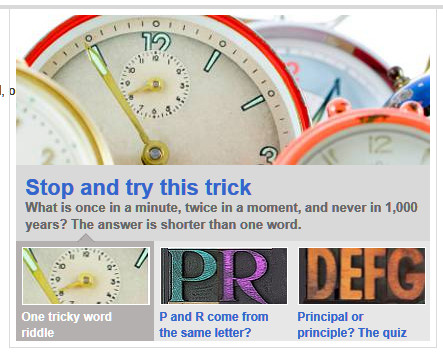 Hope everyone is enjoying their Summer.
Special thanks to www.Dictionary.com