Have you visited the 1-800-4CLOCKS.com website recently? Whether you are looking for Grandfather Clocks and trying to decide on whether you want a Triple Chime Grandfather Clocks, or a Mechanical Keywound Wall Clock or Mantel Clock with Westminster Chimes only or one with Triple Chimes, you know have the ability to hear the clocks chime on the 1-800-4CLOCKS website.
The Chimes, which are shown with each clock model that offers them, play what we believe to be the best recorded chimes available today on the internet. As an example, take a look at the Taylor Model of Howard Miller Grandfather Clock, and you will see the Triple Chimes – in this case Westminster, Whittington, and St Michaels – that you can play as many times as you like! 1-800-4CLOCKS has worked hard to bring you online as much of an in-Store shopping experience as possible.
Most all clocks that are described as Triple Chime are Clocks that play the Westminster Chimes, the Whittington Chimes, and the Saint Michael's Chimes. When that is not the case, it should be clear from the description in and of each clock.
By the way, all of this applies to chiming Grandmother Clocks, Wall Clocks, Mantle Clocks and any chiming clock!
If you want to stop by the 1-800-4CLOCKS Store in Grand Central Station in New York City, you can of course hear the Chimes in person. 1-800-4clocks also wants to take the mystery out of shopping for clocks online.
The Ave Maria and Ode to Joy Chimes will also be on the 1-800-4CLOCKS website within the next 2-3 weeks.
Any and all input from horology and time or timepiece or music chime or chiming enthusiasts is more than welcome!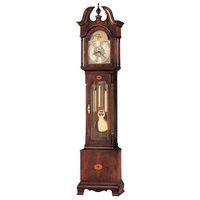 Howard Miller Taylor Grandfather Clock Model 610-648 with Triple Chimes of Westminster, Whittington and Saint Michaels