1-800-4CLOCKS is proud to have been a participant in making this Open House National NBC Television Show come to life.  The major contribution we made was the selection, donation, delivery and placement of one of the nicest contemporary grandfather clocks we sell, which is the Howard Miller Coco Grandfather Clocks Model  which can be seen just below: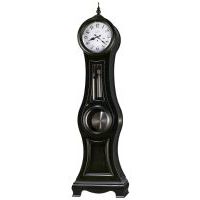 Howard Miller Coco Grandfather Clock
Please be sure to tune in to this Home Rescue Special on NBC-LXTV Production  Nationally on December 20. See below for time shows near you!
'OPENHOUSE,' POPULAR NATIONALLY-SYNDICATED REAL ESTATE & DESIGN SHOW GIVES HOLIDAY MAKEOVER MIRACLE TO SINGLE MOTHER AFTER DEVASTATING FIRE GUTS HOME
Renowned Designer, Christopher Hyland, Teams Up with Home Improvement Guru George Oliphant, to Surprise a New Jersey Family with a Whole House Restoration Just in Time for the New Year
'Open House-To the Rescue' Airs Nationally on Sunday, December 20
DECEMBER 14, 2009—OpenHouse, the nationally syndicated real estate and design series seen across the country on all NBC O&Os, is giving back this holiday season when the program's home improvement guru, George Oliphant, partners with OpenHouse contributor and prominent Manhattan-based interior designer Christopher Hyland, to create a holiday miracle for one Parsippany, NJ family.
Over 20 businesses, including lead contractor Stephen Fanuka of Fanuka, Inc., will come together to give Laurie O'Hara and her family what was taken from them just under one year ago – their home. The entire re-build and restoration, from start to finish, will be featured on a special half-hour, OpenHouse—To the Rescue on Sunday, December 20 at 8:30am on all NBC owned and operated stations (check local listings/clearance list noted at end of release).
On January 24, 2009, while Laurie O'Hara, a paralegal, and her two teenage children were out shopping for a new car to replace the one that was totaled in an accident just days before, a fire started in their laundry room spreading throughout the home's three levels. The disastrous fire destroyed all of their belongings, including priceless heirlooms, photos and memorabilia. Sadly, one of the family dogs also lost its life to injuries received in the fire. As a single mother with a son away at college and a daughter in high school, the matriarch of the household did all she could to move past the tragedy and rebuild their lives. But when it came time to renovating her home, she needed help. As such, she wrote into OpenHouse asking if they would send host George Oliphant, who lives in nearby Montclair, for a "To the Rescue" shoot. While the highly-watched show did get back to her and offer help, little does she know the extent that they're stepping in! This holiday season, OpenHouse is giving the gift of rebirth to this deserving family.
"The 'To the Rescue' segments are always rewarding," commented Oliphant. "But this one in particular, really pulls at your heart strings. I can not wait until the family sees the final product!"
The six-room raised ranch is being outfitted by Christopher Hyland with luxurious interior design elements and architectural detail. After months of work, the master bedroom will be decked out in old Hollywood glam; the kitchen will get an art deco refinishing with bright cabinetry; her son, who is an avid hockey player, will have a room decked out with official NHL paraphernalia and Catskill-style stick furniture; her daughter's room will incorporate her love of cheerleading with a country Swedish aesthetic; and every room will be wallpapered with varying grass cloth to add opulence, texture and a environmental sensitivity. Thanks to OpenHouse, they'll be able to celebrate the New Year with a fresh start, in home that has been completely transformed by Oliphant and Hyland.
Hyland added: "This modern and comfortable design scheme can be at home in any upscale setting – from the existing suburban location, to Park Avenue or beachside vacation community."
About LX.TV
Emmy Award-winning LX.TV was founded in 2006 and purchased by NBC's Local Media Division in January 2008. LX.TV produces high-quality original content accessible on multiple platforms from on-air to online to out-of-home. LX.TV's original programming includes "1ST LOOK," which runs in all of NBC's Local Media markets and "OPENHOUSE," which currently runs on all NBC owned and operated stations, in syndication and on cable. LX.TV also produces special series and programs including the wedding series, "I Do," and the documentary series, "My First Time" and the home improvement program, "George To The Rescue."   LX.TV is a wholly-owned subsidiary of NBC Local Media.
OpenHouse Local Listings:
New York-WNBC, Sundays at 8:30am
Los Angeles-KNBC, Sundays at 7:30am
Chicago-WMAQ, Sundays at 7:30am
Dallas-KXAS, Sundays at 11am
San Francisco-KNTV, Sundays at 3pm
Washington D.C.-WRC, Sundays at 5:30am
San Diego-KNSD, Sundays at 6:30am
Hartford-WVIT, Sundays at 6:30am
Media Contacts:
Bonita Lynch / Stephanie Baumoel at FerenComm for LX.TV
212.983.9898