We have seen a surge in demand for wall clocks by hospitals.  Interestingly, many of these heath care facilities have asked us to customize a specific clock to their needs.  Sometimes the wall cocks are used in just about every patient room in the hospital, and sometimes they are used for very special purposes.
We have been pleased that we have been able to meet this growing need, including a growing interest in and demand for atomic wall clocks.  We have also learned about some hospital procedures that we were frankly unaware of,  including the fact that there are units staffed by individuals in hospitals whose functions include documenting the exact time and place of a patient's death.  Not too surprisingly, these units have wanted to have atomic wall clocks, which were bolted to moving carts, so that they could record the time of death with great precision and less room for any challenge by any third party for whatever reason.
One type of wall clock NOT popular with hospitals, which is not surprising, are wall clocks which include the weather or indoor temperature.  The hospitals don't want to hand a piece of information that may in many instances be used as a source of a request — e.g. can you lower the temperature of this room, or can you raise the temperature of this room, the wall clock says it is 50 degrees, or whatever, in here.
Below are examples of two atomic wall clocks that have been extremely popular with hospitals over the last couple of years: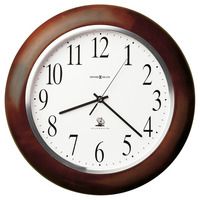 Howard Miller Murrow Wall Clock Model 625-259 Atomic Wall Clock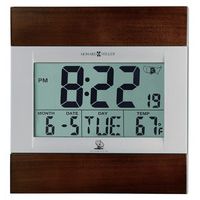 Howard Miller Techtime III Wall Clock 625-429 Atomic Wall Clock
We are waiting for a large order from hospitals of grandfather clocks, such as Howard Miller grandfather clocks, or Ridgeway grandfather clocks, but so far it has yet to materialize.