One question we get fairly regularly from our grandfather clocks shoppers is: do you have the such-and-such model of the Howard Miller Grandfather Clock available, or the Ridgeway Grandfather Clocks or Hermle Floor Clock, so I can come in and see the actual clock model before I place my order.  The grandfather clock reality is that it is highly unlikely that either we or any other Authorized Dealer for the major clock companies will have any specific grandfather clock model on display.  While a few grandfather clock dealers around the country still stock large numbers of high-end grandfather clocks and grandmother clocks, the reality of grandfather clocks economics in recent decades is that there are fewer and fewer dealers both around in general, and of those that are still around, even fewer who may stock more than at most a handful of high-end grandfather clock models by any specific high-end maker.
For many years in our NYC Grand Central Station showroom, we typically at most would have 3-4 Howard Miller grandfather clocks on display at any one time.  In our case, it is also importantly because we deal in and with antique clocks as well as new clocks, and from the very smallest miniature clocks to the largest tower clocks and street clocks in the world, doing service and having dome for many years most all of our clock repairs on-site as well.  So when you add all of that up together, for any specific niche clock, e.g. an antique grandfather clock or a new mantel clock, the many categories and permutations mean there is that much less room for any specific clock category, much less any specific maker of grandfather clocks or floor clocks in this case.
Whenever we can, we find it makes the most sense to ship a factory fresh grandfather clock directly from the manufacturer's warehouse, assuming they are in fact in stock there.  This is also true for higher end wall clocks and mantel locks.  The reasoning is that if the grandfather clock, or the wall clock or mantle clock, ship only once, that minimizes the chance of any potential shipping damage, which is rare, but each time a clock ships the chance of shipping damage increases if not exponentially then still significantly.  Additionally, the customers knows that he or she is getting a 100% brand new factory fresh grandfather clock, and that it is authentic, and that it is not a seconds or floor model or anything like that – we would never sell a Floor Model to a customer unless the customer were made explicitly aware that was the history of the item and that they were OK with it.  Additionally, not well known, but important for all grandfather clock shoppers to know, is that some grandfather clock maker warranties include a calculation based on the actual date of manufacture, so that if, say, a clock was made more than 4 years ago, even if it were bought from an authorized dealer yesterday, the manufacturer's warranty would no longer be valid.  We are always very upfront with our customers about this fact, so that there are no grandfather clocks warranty surprises for anyone.
Because we must pay State sales tax on any grandfather clocks we sell shipped to New York (not many are "carried out"), the vast majority of our sales are to individuals and organizations outside of New York State.  Those grandfather clock customers, whom like any smart shopper nowadays is looking the grandfather clocks on sale and looking to maximize the discount grandfather clock possibilities, are the ones who frequently beat a path to our door.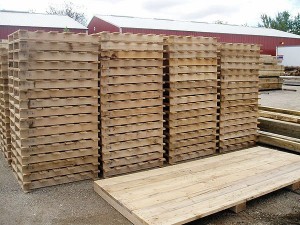 Grandfather Clocks Factory Direct sometimes ship on pallets