With Election season really beginning to heat up, it would appear to be a good time to highlight the AMAZING line of Howard Miller Presidential Series Grandfather Clocks.  These Clocks, such as the Howard Miller Eisenhower Grandfather Clock pictured below, are generally grander and more ornate than most of the other collections by Howard Miller.  Also especially worthy of note and time looking into is the Howard Miller Ambassador Collection of Grandfather Clocks.  Finally, the Limited Edition Howard Miller Clocks are a site to behold as well, some of which cut across these other of these categories.
The five grandfather clock chimes, including Westminster Chimes, Whittington, Saint Michael's, Shubert's Ave Maria and Beethoven's Ode to Joy are now ALL (finally) available on the 1-800-4CLOCKS website for the clocks that play them.
While looking at Howard Miller, there are many other fine makers to explore as well, including Hermle Grandfather Clocks, Kieninger Grandfather Clock Collection, Ridgeway Grandfather Clock Series, and Bulova Grandfather Clocks.
Look at and enjoy these great timepieces which make absolutely wonderful heirloom gifts which will last for many generations.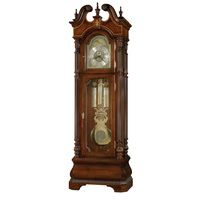 Howard Miller Eisenhower Grandfather Clock from Presidential Series Model Number 611-066