When comparing the thousands of choices of new grandfather clocks available, it is well worth contemplating how today's clock time offerings offer a much wider variety of Grandfather Clocks, including Contemporary Clocks designs, Furniture Trend Designs, Mission Style Grandfather Clocks, and even the recently  introduced Waterfall Grandfather Clocks.
To be sure, one can find a grandfather clock that is likely to be very similar to the clocks owned by your ancestors, or by the friends or relatives of houses nearby that you got your first real experience with a grandfather clock.
A new day has dawned in clock design, and now it is reasonable to say there is almost something for everyone (whether it is affordable or not for some-many-most is still open to question).  New designs include chrome and silver plated nickel. Non-traditional shapes and sizes, many of which are true feats of design, offer a smorgasborg of options from which to choose.
Grandmother Clocks have also experienced a renaissance, with many many more styles available from which to choose.
And the chimes ….. Most grandfather clocks used to be only time and strike, with Many Westminster Chime clock chimes as well being out there.  Nowadays, clock chime choices include but are not limited to the  Westminster Chimes, Whittington Chimes, St Michaels Chimes, the Schubert Ave Maria Chimes, and Beethoven's famous Ode to Joy.  Listen and be amazed!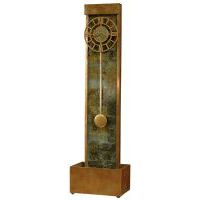 Howard Miller Model 615-052 Oasis Water Fountain Clock