We just had a grandfather clocks shopping customer call us last week to say he was looking for a grandfather clock as the ideal Valentines Day gift for his bride.  It was also going to be his gift for their 20th wedding anniversary, whose anniversary date was also fast approaching.
Was the grandfather clock to be a surprise gift or should he consult his spouse?  Perhaps his wife's mother, he thought out loud.  She would know what the daughter would and wouldn't like, at least as an excellent second opinion to his own instincts on the subject.  While this individual had tentatively picked out a grandfather clock, he was unsure of the grandfather clock makers, the differences in types of grandfather clock makers, the grandfather clocks movement types, the cases, the woods – just about every aspect.
We talked about Howard Miller grandfather clocks compared to Hermle floor clocks and them many grandfather clock models offered by Ridgeway Clocks, as well as Kieninger Clocks, and our very own Museum Clocks&#0153 Grandfather Clock collection.  We addressed cable driven clock movements vs. chain driven grandfather clocks and tubular chime grandfather clocks, as well as the least expensive quartz or battery operated grandfather clocks.
He knew he wanted  heirloom quality grandfather clock, as well as one which fit with the interior design and furniture in their living room and dining area.  He knew he wanted a gold vs silver, or brass vs nickel or chrome, set of weights and pendulum and bezel and other clock operating elements and decorations.  He wanted something that would be modern and yet classic.  Modern yet traditional if that were possible. And the very highest quality, like one of the antique E Howard Clock Company clock.
And of course he wanted it delivered and unpacked and setup and running in his living room, and for it to be a surprise to his wife as close to if not actually on Valentines Day.  He also wanted to take advantage of our using an authorized technician by at least one of the major clock manufacturers for whom we are Authorized Dealers.  And the container and fillers had to be removed and thrown out as well, with no trace of anything – the grandfather clock should simply appear magically as if it had always lived there!
This wonderful man also mentioned that he and his wife were contemplating moving in a couple of years time. He wondered about how easy or hard it might be to move a grandfather clock once it was all set up.  We pointed to a post we have on both our main 1-800-4CLOCKS website and this grandfather clock blog which explains not only what to do, but as or even more important, what not to do when moving a grandfather clock.  The biggest and most common mistake is to move the grandfather clock with the weights and or the pendulum are still attached.  This can almost immediately break the grandfather clock movement, the suspension spring holding the grandfather clock pendulum in place, and to add insult to injury, lead to breaking the glass in the grandfather clock case as well.  A grandfather clock should never even be moved a few inches this way, much less from one home to another house.
So we know that all of you discount grandfather clock shoppers out there always looking for the best discount grandfather clocks on sale want to know which clock this gentleman purchased.  We will not keep you in suspense any longer.  He purchased the very classic Howard Miller Diana Grandfather Clock model 611-082 611082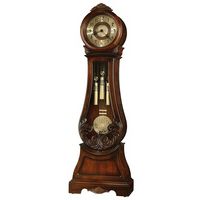 Howard Miller Diana Grandfather Clock

Model 611082 611-082
Among the many incredible features of the Howard Miller Diana Grandfather Clock, which because of its size we also classify as the Howard Miller Diana Grandmother Clock, is an illuminated grandfather clock dial, and it has Westminster Chimes and an auto-night shut-off feature option.  The cable-driven mechanical movement is made in Germany by Kieninger Clocks.