One of the choices facing Grandfather Clocks shoppers is whether to go with one of the many mainstream grandfather clocks, the very large majority of which have hammers which strike on chime rods, or some kind of alternative.
A great alternative to consider, especially those who have both large homes and want to be able to hear the chimes loud and clear in much of the house, is grandfather clocks with Tubular Chimes. Tubular chime grandfather clocks generally come with either 5 tubes or 9 tubes. The five tube variety is almost always built to play the Westminster Chime, with a choice frequently of only gonging on the hours for the number of hours. The nine tube chime in newer clocks will almost always offer a choice of chimes, such as the Westminster, Whittington or Saint Michaels Chimes. One at a time; never all three together. Antique Grandfather tubular chime clocks are worth a special look as well, and carry their own advantages and disadvantages.
Aside from the tubular chime grandfather clock clock selection currently offered by Howard Miller Clocks, Hermle Clocks, and Kieninger Clocks, Bulova will now be offering many of its clocks with a tubular chime option.
Get ready to see some gorgeous new choices in tubular chime grandfather clocks. Bulova Grandfather Clocks with this option will soon be seen on the 1-800-4CLOCKS website, and perhaps in its Store in Grand Central Station as well.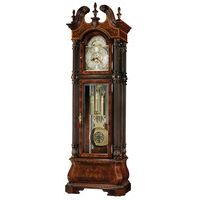 Howard Miller J. H. Miller II Grandfather Clock Model 611-031 Limited Edition