The story has been reported, coinciding roughly with the Olympics, that the Big Ben Clock Tower in London will soon be renamed Elizabeth Tower in honor of Queen Elizabeth.  We somehow doubt the Big Ben Clock name change will really sink in, as tradition and history play such a vital role in a country, and in this case, the world's psyche.  The Big Ben Clock Tower in London's House of Parliament is thought of by much of the globe as the world's grandfather clock.
The clock history story and perspective and future dedication have a story that goes like this.
The iconic Clock Tower of Britain's Parliament-home of the famous "Big Ben" will officially be renamed in honor of Queen Elizabeth II.
Shall we rename our upcoming Big Ben Grandfather Clocks collection the Elizabeth Grandfather Clock Collection.  We think we will wait and see what happens in terms of the adoption of the name in horological and the general lexicon over time, both in the UK and globally.
The 315 ft.-high structure, one of Britain's most famous landmarks, will officially be titled "Elizabeth Tower."  This is part of a recent effort by British lawmakers to celebrate the monarch's 60 years on the throne.   A House of Commons Commission statement stated that official actions are being taken to ensure that the new tower name will be implemented in an appropriate manner in due course.  Construction of the tower was completed in 1858.  It houses a four-faced chiming clock and the famed 13-ton Big Ben bell.
British Prime Minister David Cameron recently announced that the new name was a "fitting tribute to the Queen and the service she has given our country."
It was generally agreed by those within British government that the honor was a fitting recognition of Queen Elizabeth's lifetime of dedication and tireless service.
No date or time yet as to when this Big Ben Tower Clock name change may, or we should say rather will, take place.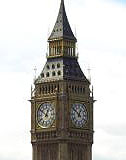 London's Big Ben Clock Tower to be known as Elizabeth Tower in honor of Queen Elizabeth