As an admirer of precision grandfather clocks, including astro-regulators, I was struck that on the day after the world's newest longest tunnel, beneath the Swiss Alps, a picture similar to the one below in The New York Times, with the caption, Like Clockwork.  This amazing mechanical marvel was photographed as the tunnel broke through on the other end, with the Miners celebrating after a giant drilling machine completed the world's longest tunnel beneath the Swiss Alps this past Friday.
The photo below should be credited to Fabrice Coffrini/Agence France-Presse, and Getty Images.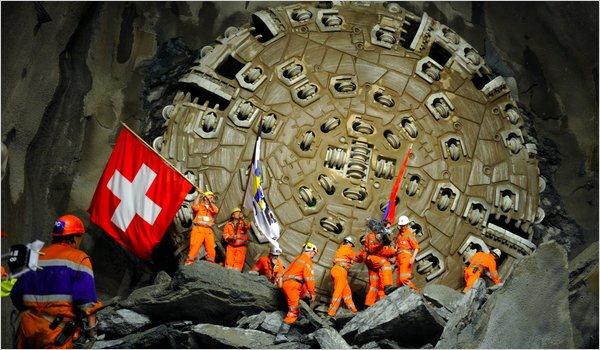 Clocks of all kinds are mechanical miracles, and were in most ways the earliest precision mechanical instruments presaging the industrial revolution that has helped propel us forward to where we are today with technology driven products and capabilities.
Wall clocks, mantel clocks, mantle clocks, grandmother clocks and grandfather clocks both antique and new share some of the common heritage that led mankind to be able to invent such a tunnel digging machine that is truly magnificent, and no doubt has many working wheels and springs and even motors which have been used through the ages of clocks.
Would this not make a magnificent design for a clock, or even a wristwatch?  The similarities in shape, structure and design cannot be overlooked.
We would encourage clock makers like Howard Miller Clocks and Hermle Clocks and the Ridgeway Clock company to consider incorporating a design like this into either a wall clock or mantel clocks.